About Derek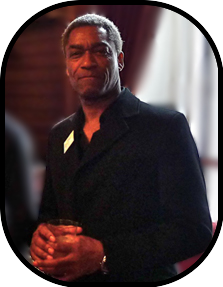 Those of you who met Derek will remember he always dressed in black, or did he?
"As youngsters we used to dance together as our parents taught ballroom dancing as a hobby. When we were older we went to dinner dances with an Aunt and Uncle.  In adulthood we used to Jive together, Derek had really good rhythm.
In the 70s Derek was invited to Canada for work.  He left wearing a cream suit and returned wearing all black.  This, of course,  became his trademark.
Sister Ionne lives in California and we visited her for two or three weeks every year.  She retired from the military as a First Sergeant/Senior Master Sergeant and now teaches Cadets at a High School.  Derek went to the school and talked to the cadets about how the industry worked and his job within it, telling them various television shows and series he had worked on.  The Cadets were enthralled and kept him talking for ages.  He also went to Oxford University every year to talk to his friend's students.
We are very proud of our Brother and his achievements."~ Juanita Barnes 28/12/2021
Did you know that Derek's career in entertainment started at the Watford Palace Theatre as an usher, it didn't take him too long to progress through the ranks.
"Why so posh?", Derek was born into a working class family in Watford, however, that family had a determination to succeed and ineed did. Derek's uncles were boxers and at least one made it into the Guiness book of world records. Growing up, Derek spent a lot of time with on of his uncles and it was there that he inherited his 'posh' voice. I often teased Derek about his voice and told him that there was "no way he was working class" and he was a tory in labour clothing, he would get playfully cross.
More about Derek will follow in due course, if you have any special memories feel free to post them